Bulgaria
Deaf community in Bulgaria has been given full access to information in Bulgarian Sign Language during all briefings and news with regard to COVID-19.
This is all thanks to the Union of the Deaf in Bulgaria's collaboration with the Ministry of Education and Ministry of Employment & Social Protection. The Council of Ministers received a proposal by the above ministries to provide funding for sign language interpreters to provide equal access to information for Bulgarian Sign Language users. The Prime Minister Boyko Borisov personally accepted the proposal and now the Ministry of Education is working closely with the National Association of Sign Language Interpreters in Bulgaria (NASLIB) in providing BGSL interpreters at all briefings.
Also, thanks to the Council of Ministers, the TV Broadcasters have decided to contribute to equal access to information via Bulgarian Sign Language during briefings as well as the evening news emissions (this has never happened before!):
Bulgarian National TV (BNT 1 & BNT 4); You can see their statement on their website;

bTV and

NOVA TV.
In difficult times like this, a full access to information for deaf people is of vital importance to us and we are glad that the Council of Ministers is working closely with all of us to remove barriers to information in BGSL. The only issue we are working on is for the Presidency of the Republic of Bulgaria to provide funding for BGSL interpreters at their briefings.
In the meantime, despite the fact that the Council of Ministers provided BGSL interpreters, the TV broadcasters did not do their job by not showing the interpreters on the screen but focusing mainly on the speakers and the deaf people missed the information from time to time. Hence the Ministry of Education and different organisations of and for the deaf in Bulgaria and individual activists have done a great campaign on Facebook to change this. This is one of the reasons the broadcasters have improved their operational skills each time. Attached are the photos of our interpreters on TV for your information.
The campaign on Facebook can be found via hashtags:
#жестовезик (sign language)
#равендостъп (equal access)
Finally, all organisations of and for the deaf in Bulgaria (e.g. Union of the Deaf un Bulgaria; Youth Organisation (MOSGB); National Association of the Deaf-blind People in Bulgaria; Bulgarian Deaf Sports Federation; National Association of Sign Language Interpreters in Bulgaria; Association of Parents of Deaf Children; Foundation "Vzaimno" and so on) wrote a thank you letter to our government for the prompt response to our request in such difficult time.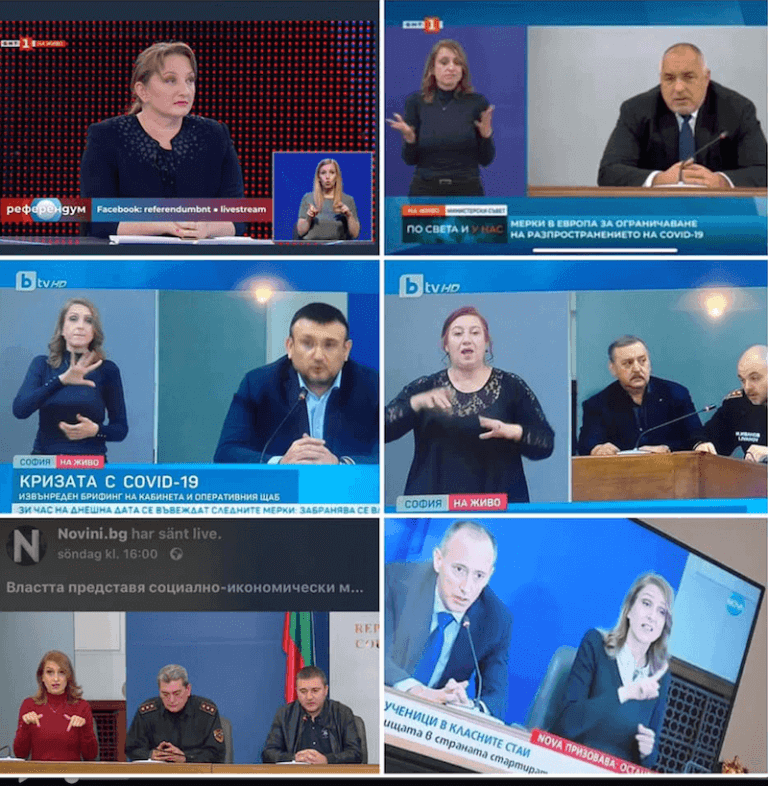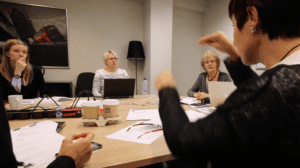 This is an example excerpt that can be filled in by the Editor on page. You can find this by clicking on this page in WordPress and writing the excerpt on the sidebar.