Finland
In Finland, press conferences regarding the COVID-19 are available in Finnish Sign Language and live captioning. The government press conferences with ministers regarding the coronavirus are daily and sign language interpreters are present in real time. These conferences last for an hour and a session for questions from the media follows afterwards. The Iinterpreters are visible in an interpreter box on the TV screen.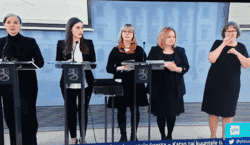 In Finland, there is a daily special expert program about the COVID-19 with sign language interpreters in the box and captioning. Importantly to note, these interpreters are different from sign language interpreters working during the government press conferences/announcements because often these press conferences are followed immediately by the special TV programs/broadcasts or vice versa.
Also, the information about the coronavirus was interpreted in Finnish Sign Language by the Finnish Institute for Health and Welfare:
https://www.youtube.com/watch?v=D8V6nNiR3pk&t=88s
Moreover, In Finland Parliament Question Hours are weekly televised on the national TV (YLE). These Parliament Question Hours are also interpreted in Finnish Sign Language. On the 26th of March, Parliamentarians gave questions to the government (Board of Ministers) regarding the coronavirus and the related matters.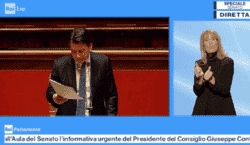 On the 13th of March, ENS (Ente Nazionale per la protezione e l'assistenza dei Sordi – Onlus or Italian National