France
Usually the French President addresses the nation from his office with an interpreter on a medallion, but on the 25th March 2020 for the first time ever Mr Macron addressed the nation with an interpreter on the spot besides him and even while being on a trip.
Daily press conferences of the Ministry of Health are regularly accessible in French Sign Language.
Also, the government has created a special website about covid-19 as well.
The call number that was not accessible in the beginning has been made available in French Sign Language and it is free of charge, due to the requests of the French Deaf Association.
Moreover, there are two awareness-raising campaigns that are interpreted and they are broadcasted everywhere.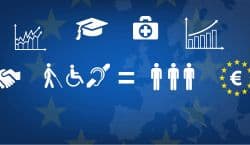 The Strategy is divided into eight main areas for action: Accessibility, Participation, Equality, Employment, Education and training, Social Protection, Health, and External Action.