Revised Audio Visual Media Services Directive (AVMS)
The Directive creates an EU-level framework to coordinate national legislation on all audiovisual media, both traditional TV broadcasts and on-demand services (for example, Netflix, Amazon Video, Now TV).
It sets out requirements concerning aspects such as prohibition of hate speech and discrimination based on disability and other grounds, commercial information on TV programs, protection of minors, independence of the national regulatory bodies that monitor audiovisual services, and the promotion of European audiovisual productions. In 2018 the EU updated AVMSD with stronger requirements for accessibility. EUD regularly supports NADs when advocating for the ambitious and robust transposition and implementation of the revised AVMSD.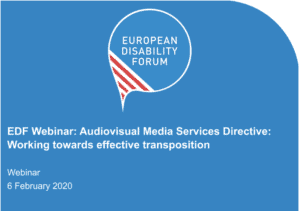 On the 6th of February EUD followed the webinar on the transposition of the revised Audio-Visual