EASIER PROJECT
H2020
We are pleased to announce that EUD will be part of the EASIER project which starts in January 2021.
During 3 years of the project, EUD will work with MARTEL which is based in Switzerland.
14 consortium partners composed of research groups in sign language technologies and experts in Human Sciences and Technology.
The EASIER project aims to create a framework for barrier-free communication among deaf and hearing citizens across Europe by enabling users of European Sign Languages (SL) to use their preferred language to interact with hearing individuals.
EUD will play a key role in the EASIER Consortium by user involvement by bringing in the deaf community for needs analysis, specifications, design, feedback and evaluation
(temporary) website https://www.project-easier.eu/
Twitter: https://twitter.com/EASIERproject
LinkedIn: https://www.linkedin.com/company/easierproject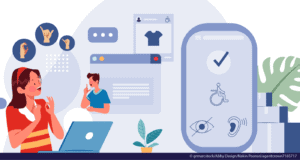 On 12th of October 2021, the EUD attended a webinar co-hosted by the European Disability