EUD webinars focus on various topics important for the deaf community.
The aim of the webinars is to strengthen the capacity of national member organisations to enable them to actively contribute to the implementation of the European Disability Rights Strategy 2021-2030, the United Nations Convention on the Rights of Persons with Disabilities, the European Pillar of Social Rights and other relevant policies and initiatives.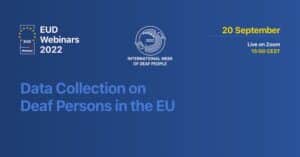 There is a growing global dialogue on the importance of data on persons with disabilities.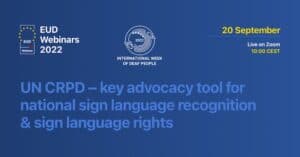 The United Nations Convention on the Rights of Persons with Disabilities (UN CRPD) was the EUD Webinar 13th December 202210:00h – 12:00h Brussels time The 20 principles of the European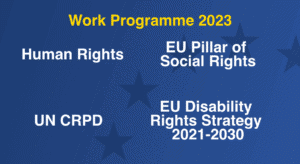 This year, in 2023, under the European Commission's Citizens, Equality, Rights and Values Programme, EUD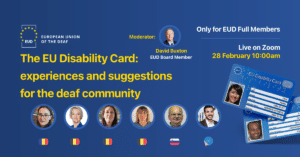 EUD Internal Webinar 28th February 202310:00h – 12:00h Brussels time EUD will be holding a