SIGNON PROJECT
H2020
We are excited to announce that EUD will be part of the SignON project (programme H2020) which starts in January 2021.
EUD will be involved in SignON Consortium led by Dublin City University, composed of 17 partners and bring forward EUD's expertise and end-user perspective.
SignON Project aims to facilitate the exchange of information among deaf and hearing individuals across Europe targeting the Irish, British, Dutch, Flemish and Spanish Sign Languages and English, Irish, Dutch, Spanish spoken languages.
EUD will fulfill a central role in co-creation and user response and report on user requirements to support the SignON Consortium by defining use-cases, co-design and co-develop the SignON service and application.
(temporary) website : https://signon-project.eu/
(VGTC is responsible for the dissemination channel)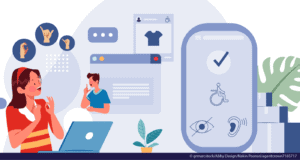 On 12th of October 2021, the EUD attended a webinar co-hosted by the European Disability